Key Information
Event Date:

Wed 19 - Sun 23 July 2023

Registration fee:

£79 (until 31 August)

Fundraising target:

£1,750

Self-funded payment (no fundraising):

£1,650

Route:

London – Calais – Arras – Compiègne – Paris
registration fees
The registration fee to join the London to Paris bike ride increases over time, so the sooner you register the less you'll pay!
See the table below for the latest price:
|   | 1 Jul - 31 Aug | 1 Sep - 31 Oct | 1 Nov - 31 Dec | 1 Jan - 30 Apr |
| --- | --- | --- | --- | --- |
| Registration fee per person | £79 | £99 | £119 | £139 |
Inspired by the Tour de France?
Join Team Action on our very own Tour from London to Paris cycle for a truly inspirational experience you will never forget! Make friends for life, push yourself to your limits and raise vital funds to fight for medical breakthroughs for some of the toughest fights our children face. Perhaps even catch a glimpse of the world's greatest cycle race!
Spending 4 days in the saddle, you'll cycle just under 300 miles from one iconic world-famous capital city to another, fully supported by our experienced crew who'll take care of it all so you can just enjoy the ride!
London to Paris Cycle Route
Setting off from London the route will take you through glorious English countryside, before crossing the Channel. On dry land again the ride cuts through the low-lying hills and small tranquil villages of Northern France.
Each evening unwind with your fellow cyclists, reliving the days ride over a beer or glass of French wine (well, what else would you drink in France?!), catch up on the latest news in the final stages of le Tour, or simply get an early night so you're ready for the next day.
After 3 long days in the saddle and some strenuous hill climbs, the sight of distinctive Parisian landmarks standing out on the skyline will evoke a sense of great personal achievement. The highlight of the trip is the spectacular finish, cycling en masse around the Arc de Triomphe and down the Champs-Élysées, before celebrating under the iconic Eiffel Tower. The atmosphere is electric as crowds of tourists and well-wishers cheer you on!
With the final day in Paris belonging to you, go explore the sights of this majestic city, as well as soak up the atmosphere with the crowds at one of the greatest sporting spectacles, the final stage of the Tour de France.
Action's London to Paris charity bike ride is a tough but achievable challenge, perfect for experienced cyclists looking to tick it off their bucket-list, as well as beginners or those new to cycling. Our experienced crew will take care of everything so you can get on with enjoying the ride. The route is marked, food and drink provided, luggage transferred from hotel to hotel and our mechanics will even be on hand to fix punctures, and get you back on the road!
So what are you waiting for? Join the peloton to Paris today and help fight for little lives!
For more information take a look at the itinerary or if you need anything else please don't hesitate to contact the Events Team who will be happy to discuss the trip with you and answer any queries.
London to Paris Cycle itinerary
Here's your London to Paris cycle route with breakdown of the mileage covered on each day. Please note that the route may be subject to slight alterations due to conditions and local events beyond our control.
Day 1: London – Dover – Calais
An early start from Blackheath Common allows us to avoid the morning traffic as we pass through the outskirts of London onto quieter roads. It's not long before we are among the rolling fields and villages of rural Kent, passing orchards and traditional oast houses. We follow country roads across the hills of the North Downs to Dover and the coast. Taking the ferry to Calais, we have dinner on board and cycle the short distance to our hotel. (Dinner on ferry not included)
Cycle approx. 130km (80 miles)
Day 2: Calais – Arras
We head south from Calais, through the beautiful French countryside. Our route takes us along small, quiet roads through villages and small towns. During the afternoon we ride past small War Cemeteries such as at Noordpeene and Gauchin, a reminder of the remarkable history of this region. The terrain is reasonably flat, to begin with, but becomes more undulating as we travel south, where we spend the night in Arras..
Cycle approx. 125km (78 miles)
Day 3: Arras – Compiègne
The ride continues south through villages and along quiet undulating French roads, passing cemeteries of the First World War as we pass through the region of the Somme. We usually have time to stop at Theipval, with its thought-provoking 45m-high Memorial to the Missing. Continuing south, we head through the more forested region around Compiègne; an attractive town which lies on the banks of the River Oise, and our stop for the night.
Cycle approx. 125km (78 miles)
Day 4: Compiègne – Paris
Our final day's cycling takes us southwest, initially through small villages and woodland before we meet the outskirts of Paris. Needless to say, the volume of traffic increases but our destination and the finish is in sight! We cycle through the Parisian streets, sweeping around the Arc de Triomphe and down the famed Champs-Elysées to our finish beneath the lofty arches of the Eiffel Tower. We head to our hotel and get ready for a few celebration drinks to mark our achievement.
Cycle approx. 95km (59 miles)
Day 5: Paris – London
After breakfast you are free to explore the famous sights of Paris. Later you can enjoy the huge spectacle that is the Tour de France! We don't have a set area to gather, but the 71m-wide Champs-Elysées is by far the best place to watch the laps before the final sprint; head over with your new cycling buddies, pick a spot and enjoy the incredible atmosphere. Spectators gather early to watch the world's most famous cycling event arrive home, and if you want a good view you are advised to get there many hours before the peloton! You are responsible for getting yourself and your bags to the Gare du Nord in time for your evening Eurostar train back to St Pancras, where you will be reunited with your bike. If you would rather see the whole Tour de France finale, we would suggest that you stay in Paris for an extra night and make your own travel arrangements back to the UK (at your own cost). If you intend on doing this, you will need to inform us prior to the confirmed deadline, so that we may cancel your return ticket and reduce your trip cost accordingly. (Lunch & dinner not included)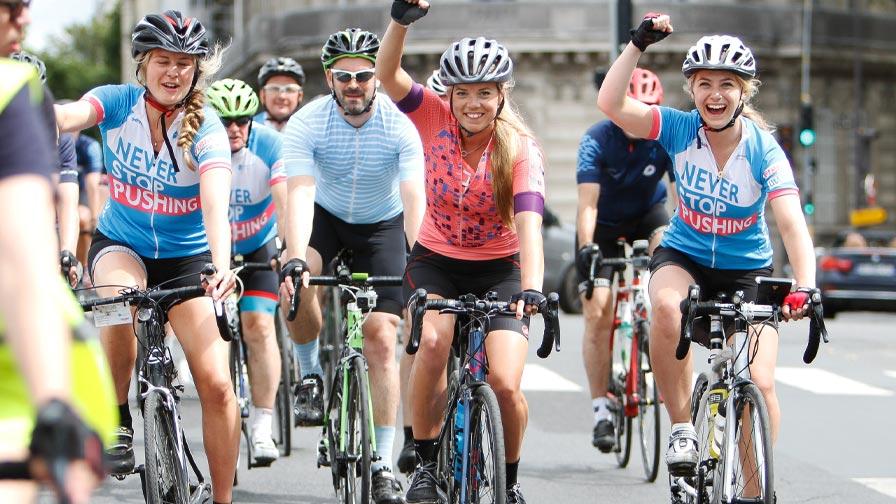 Why ride for action?
Join Team Action and you'll get:
One FREE place on any of our Ride 100 Series sportives
Access to an online community to chat with fellow riders
Newsletters with handy fundraising hints, tips and info
A dedicated phone line to the event manager at Action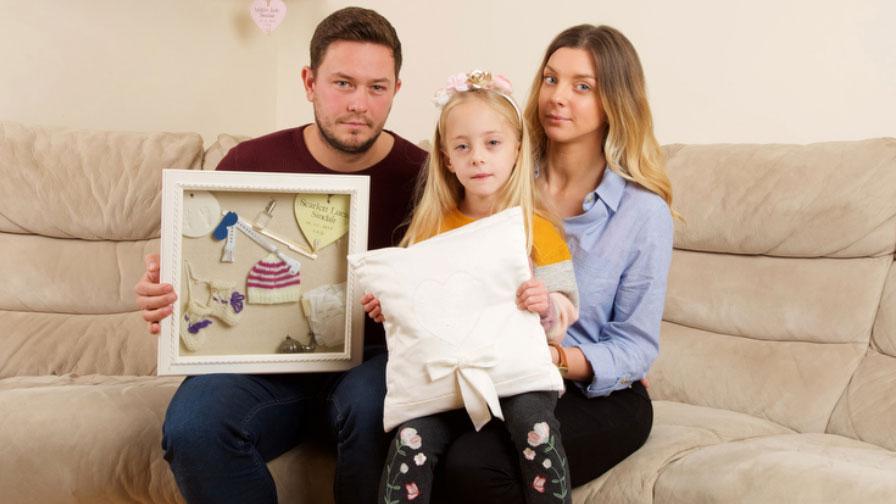 ride for a reason
Ride for children like Millie and Scarlett
Millie, who was born at just 28 weeks, is a loving child with a startlingly mature awareness of her twin sister Scarlett, who tragically died aged just one month after contracting the deadly bowel condition necrotising enterocolitis (NEC). Action fund research into causes of prematurity and devastating conditions such as NEC. By riding London to Paris you can help our fight for tiny lives.

Event Includes
Chance to see le Tour
Accommodation
Ferry and Eurostar
Most meals (See FAQs)
Snack and lunch stops
Support crew
Celebratory drinks
Route marking
Medal to cherish forever!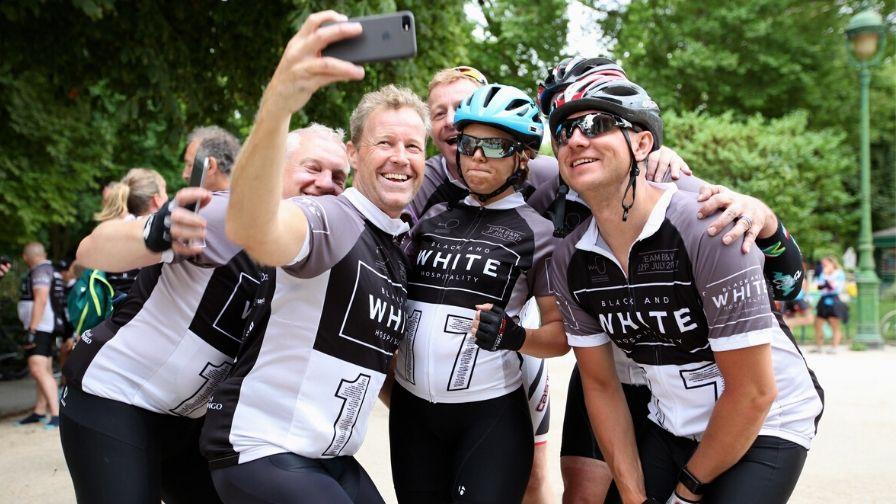 Enter a team!
Are you riding as a group or do you work for a large organisation or have your own company?
We'd love to have your team join us as we RIDE from London to Paris. Whether you are a group of friends, family or colleagues. If you are entering four people or more into the 2023 London to Paris RIDE then contact the Events team by email for a group discount, information and support. 
pedalling to paris for over 20 Years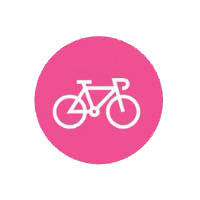 Frequently asked questions
What is my route?
London - Dover - Calais - Arras - Compiègne - Paris
Where is my start point for the ride?
The exact start venue has yet to be confirmed but will be towards the South East of London, typically around Blackheath Common, Crystal Palace or Greenwich.
Can I use an e-bike?
Yes! We'd gladly welcome you on the ride with an e-bike, but we advise that take a look at these pointers from our tour operator partner, Discover Adventure.
What time do we register and depart?
Registration will be early on Wednesday 19th July. Further information and timings will be sent out in due course.
How much do I have to raise?
We ask you to raise the trip costs of £1,174 by April 19th. In addition to this, you need to hit the overall fundraising target of £1,750 by the time of departure ideally. Please note that Gift Aid and your registration fee cannot be counted towards this amount.
Why do trip costs need to be banked by 19 April?
We need you to have raised and banked a minimum of £1,174 by this date so that we can pay for your place on the challenge. This amount pays for your transport, accommodation and food throughout your trip. Unfortunately, if this amount has not been banked by this date you will not be able to take part in this event. If you would like to pay this cost personally then that's no problem. We are happy to take a credit/debit card payment over the phone or alternatively, you can sponsor yourself via your online sponsorship account.
When do I need to fundraise the remainder?
You will need to raise and bank the remainder of your sponsorship, by 14th August 2023.
What is the typical speed of a rider on this trip?
Traditionally this challenge attracts a mixed group of cyclists, from those starting out to everyday riders. On average there will be riders cycling at around 10mph through to 17/18mph on average over the four days.
What happens to my luggage?
Your main luggage will be transported from hotel to hotel throughout the duration of the trip. You will be given a luggage tag for your main bag so that it arrives at the correct hotel. We do ask you to carry a small day bag for all those essentials, like a waterproof jacket, a jumper, extra snacks and your passport when riding. After the ride you will need to hang on to your main luggage. In the past, participants have stored their bags at the hotel for the day or in a secure locker at the train station. Either way you will need to bring your entire luggage with you on the Eurostar back to London.
Where will we be staying?
Accommodation en route is in 2/3 star hotels, picked for their proximity to the route. The accommodation will be twin share with washing facilities.
Could I have my own room and not share?
Yes. There is a single supplement of approximately £180 which is payable directly to our tour operator, Discover Adventure. We can give you details of how to make payment once you've registered.
Where are we staying in Paris?
This will be confirmed nearer the time. In 2022 we stayed at the Hôtels Les Batignolles, 4 boulevard Berthier, 75017 Paris
Can you book accommodation for friends and family?
Unfortunately not. If you have family and friends looking to join you at the finish in Paris you will need to book separate accommodation for them.
I'm worried that I might get lost
You will get a briefing every day to let you know what to expect and to give you a rough idea of where you are going to be heading that day. In addition you will receive a map of the entire route to help you navigate your way. The route will also be marked with arrows and several support vehicles and staff from Discover Adventure and Action Medical Research will monitor the ride. Please note that unfortunately we are unable to accommodate any additional support vehicles that you may wish to bring along. You will be provided with an emergency telephone number to call if you think you have managed to sneak your way off route!
What happens on the final night in Paris?
We will celebrate your achievements with a glass of something special when you arrive in at your hotel in Paris. The evening is free for you to sample the delights of Paris and grab a bite to eat with newfound friends.
Do we get to see the Tour come through?
You will have the chance to see some of the final stage, if not all of it, and to soak up the electrifying Tour de France atmosphere for the day in Paris. Please note that in some previous years the tour has arrived very late in the evening and we are not aware of the timings for 2023 as yet.
If I stay in Paris can you take my bike back?
We can take your bike back to the UK and hand it over to a family member or friend once back at London St Pancras. Alternatively, you can request to have your bike couriered back to your home address for an additional cost. This must be arranged directly with our travel partner Discover Adventure, by completing this form. Please note, there is limited capacity for this and will work on a first come first serve basis, so please book early as possible to avoid disappointment. 
Will my bike get damaged?
Our tour operator Discover Adventure take good care when transporting the bikes back to the UK. The bikes are rugged and are packed in well to limit movement whilst in transit. If you want to bring additional foam tubing for the main frame and forks or a bike bag then that's fine with us. However PLEASE DO NOT BRING A BIKE BOX as these take up quite a bit of room on the trucks. Bike bags are acceptable.
What time Eurostar will we be on?
We will inform you what Eurostar train you are on in the Event Manual that you will receive in April. Please note that we are only able to book for participants taking part on the trip. Any additional bookings must be booked by yourself and under a separate name.
When will I receive my Eurostar ticket?
You will receive your Eurostar ticket on Saturday 22nd July 2023 as you check in to the hotel in Paris.
Can I change Eurostar departure time?
Unfortunately not unless you are happy to pay for a new ticket. The tickets we have bought have been paid for in advance and are non-transferable or refundable. Please let us know if you are planning on changing your ticket.
Can Action purchase extra Eurostar tickets?
No. Any additional Eurostar tickets will need to be booked separately and done independently. We will be able to tell you the train that you will be on a little closer to the time.
Which meals are not included?
Breakfast and dinner on day 1, dinner on day 4 and lunch and dinner on day 5. 
Where do I pick my bike up from?
When you arrive in London we will guide you to where your bike will be to pick up. Generally, this will be just outside the station itself.
Do I need to wear a cycle helmet?
Yes, you must wear a cycling helmet to take part in an Action Medical Research bike ride.
I don't want to return on the Eurostar as planned, is that ok?
Yes, please let us know in advance of the trip if you do not wish to return on the Eurostar with the group. You may be entitled to a £50 refund on your ticket too. 
What are the ferry times?
As of yet we do not have confirmation of the time of the ferry or how long the crossing is, however this is generally around 4 hours and we would hope to arrive around 10:30 pm local time. 
How far away is the hotel in France on the first night away from the ferry port?
The hotel is roughly 4 km from the ferry port.
What happens to my passport during the trip?
You will keep a hold of your passport throughout the trip and will need to keep this safe. 
What are the Eurostar times?
These haven't both been confirmed yet but we'll update you here and via our enewsletters when we know. 
Should I get travel insurance?
YES! We also recommend you choose a provider that also covers you for COVID-19 if appropriate and your bike.