Key Information
Location:

Cotswold

Team Registration Fee:

£150 per team

Team Fundraising Target:

£1,500 per team

Individual Registration Fee:

£38

Individual Fundraising Target:

£375
It's midnight. Most people are asleep. But not you.
THANK YOU and CONGRATULATIONS to all of the fabulous walkers who took on the Cotswolds Way this year!

You all challenged yourselves to your limits, battling the elements to raise much needed funds towards vital, cutting edge medical research.

Well done, we can't wait to see what you'll do next!
You've got a map, a torch, some hiking shoes and you're ready to do battle. Ready to face the ultimate challenge. The challenge that will try to break you.
Trek the Night is a gruelling 40 mile midnight hike that will push you to your limits. Think you can walk? Think again. This endurance challenge is tough, muddy, painful and a hell of a lot of fun.
Perfect for team bonding or for taking on your very own personal challenge. Walk it solo or with your friends, colleagues or family.
You'll need stamina and determination to get you through but once you've hit the finish line the sense of accomplishment is unbeatable.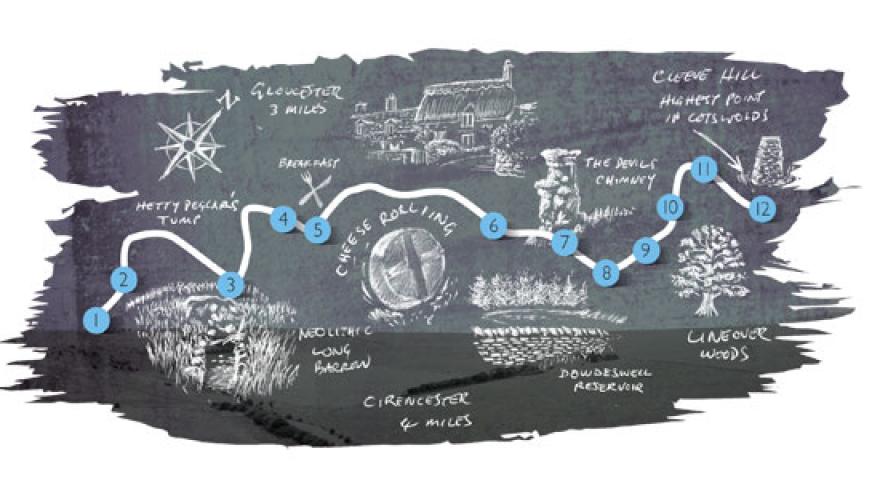 Cotswold Way
As midnight strikes in darkest Gloucestershire you will hit the trail with head torches blazing and maps in hand to negotiate your way through the night. After watching the sun rise, you will push on through the next day, to the finish line to complete an adventure you will never forget. All of this is played out against the awesome backdrop the beautiful Cotswold Hills and Severn Vale.
Fundraising
Teams must raise a minimum of £1,500 per team
Lite Teams must raise a minimum of £1,200 per lite team
Individuals must raise a minimum of £375
This is a realistic target but we hope that you, like many previous teams raise much, much more!
At the time of booking you have the option to set up a JustGiving page. If you've already registered and are yet to set up your page you can do this by clicking the button below. The earlier you start your fundraising the easier you will find it to reach your target, the Action events team will also be here to help you every step of the way. 
There's a lot you can do on your fundraising page to personalise it; add photos, connect your page to your Facebook and Twitter accounts and edit your story to make it more personal to you and your sponsors. The more you make it your own, the more compelled people will feel to donate.
Make sure all team members have your sponsorship link so friends, family and colleagues can sponsor you online, safely and securely.
Captains and individuals should ensure Action have received 50% of the fundraising target (£750/£600 for teams and £187.50 for individuals) two months prior to the event on 5th April 2019. Remaining funds must be received no more than four weeks after the event.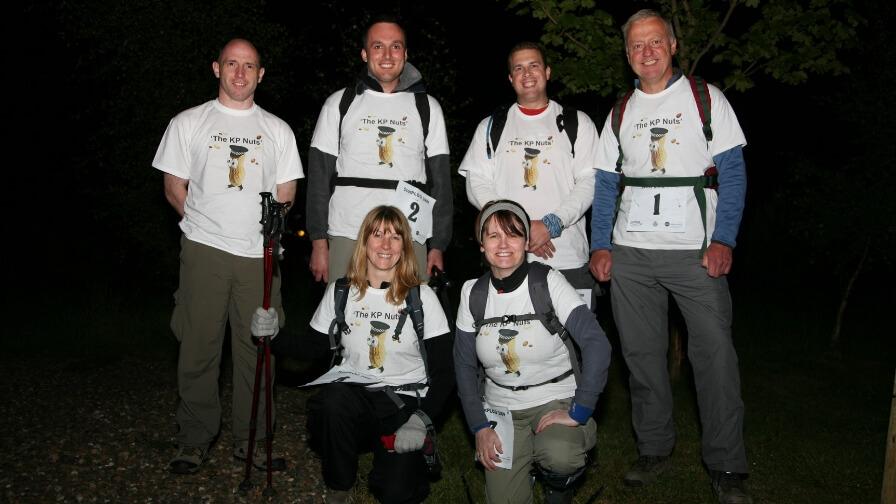 Team Challenge
Your squad of four will prepare, fundraise and train together. Not forgetting your support crew – each team will need a dedicated driver who will meet you at checkpoints along the route to provide supplies and cheer you on. You'll have to work together from start to finish, testing your stamina and determination, to complete this challenge of a lifetime.
Trek the Night is ideal for companies looking for a lively way to put staff through their paces. Team building is vital to the success of any organisation and provides many benefits to companies. It boosts staff morale, builds employee confidence and loyalty and allows development of relationships across all levels of the organisation.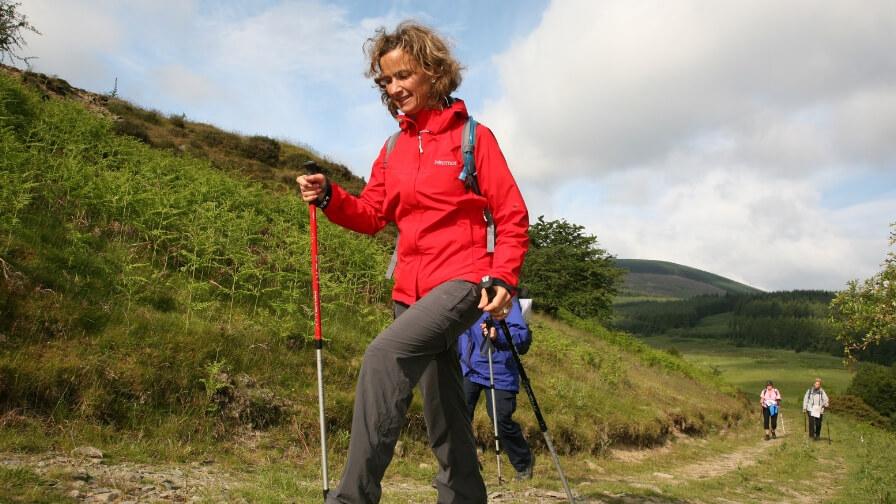 Tackle it Solo
If you're looking for a challenge you can take on solo then this is the one for you. Trek the Night is tough but achievable. You can head out alone but have the full support of our crew all along the way at each checkpoint.
Going it alone means you can set your own pace, walking as fast or slow as you'd like. And you can set your own goal, completing the challenge in a time you are happy with. It takes a lot of mental determination and strength but once you reach that finish line you'll have achieved your very own personal challenge.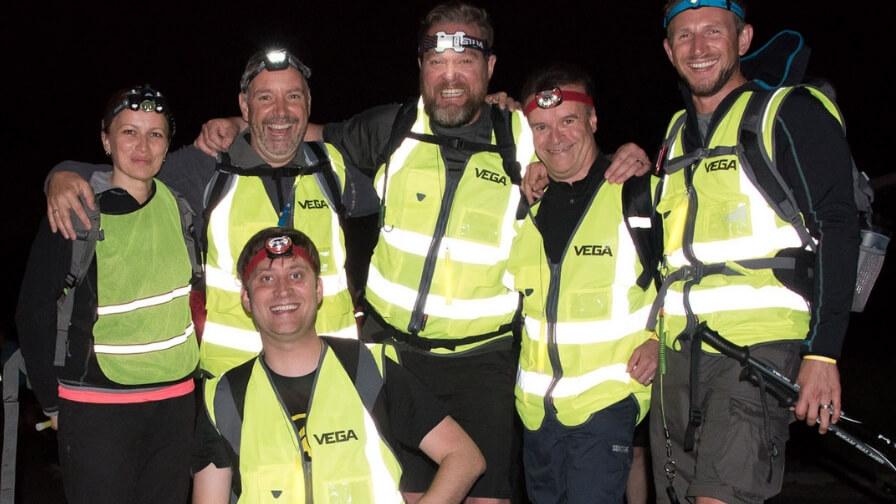 Trek Lite
If the full Trek the Night is not for you then why not take on the Trek the Night Lite. Walking just 23 miles your team will start at the breakfast stop and finish with the other teams at Cleeve Hill Golf Club.
It may be the Lite version but apart from less miles there is no difference; same teamwork, same route, same preparations, same support driver and car needed. Fewer miles but all the sense of achievement!
Rules
This is a charity event, the challenge is raising money, taking part and pushing yourself to the limit to help save and change children's lives.
Teams are usually made up of 4 people plus a support driver but if you have more or less that is fine- the only rule on this is that if you are a team of 3 or more you MUST have a support driver and if you are a team of more than 4 that you either have a vehicle that can accommodate everyone or you have more than one support vehicle and driver.
There are no winners or losers but you will receive a medal and a certificate as a thank you for taking part.
Please remember all teams and individuals MUST sign in and out of each Checkpoint so we know that everyone is safe and accounted for.
Prep & Training
A training guide can be found in FAQs.
The Trek is very arduous and to ensure you have the most enjoyable and safe experience possible, we strongly recommend you carry out adequate training for this challenge.
for a long distance walking challenge there is only one form of training that will ensure you perform well - walking!
if you are generally fit, and you do lots of sport - you will be off to a good start
many a good marathon runner and endurance cyclist have thrown in the towel, so do not make any assumptions that walking is easy
do not forget to include some hills because you use different muscles for steep ascents and descents
your Trek success is about teamwork so the more training you can do together, the better.  We all need a little encouragement when the going gets tough.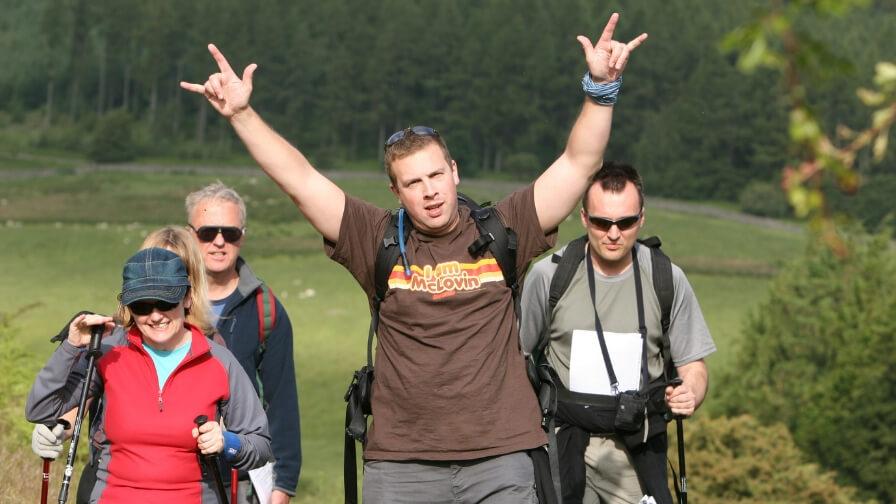 Get a plan and get started
Depending on your fitness levels and walking experience, the start point will vary for each individual. If you are not used to physical activity and this is your first big challenge, do not delay the start of your training. Start with short distances at regular intervals, and when comfortable, increase the length of the walks. Aim for 2–3 walking sessions a week – always wear the boots that you will be using on the Trek which are therefore fully broken in, and ensure you have become accustomed to how your feet react to regular walking.
Stretch and build up slowly
Stretching should always precede any physical training. Stretching is doubly important for walkers, as you need to keep muscles and tendons long and supple. This is worth noting if you are a regular runner, as running does have the effect of shortening and tightening everything. Approach your training sensibly and you will make it through just fine. Training is about building your body up gradually, but it is also about getting in the right frame of mind for your endurance challenge. Success is as much about your mental readiness as it is your physical condition. So get the miles in, include a few hills to help practice your ascending/descending techniques and remind those lungs what it feels like to work a little harder. Once you get into the swing of things, you will be surprised at the distances you'll end up covering.
FAQs
What is my kit list?
Each team member should be responsible for their own spare clothing.
Please be aware that cotton clothing when wet will not keep the wearer warm, in fact it will draw heat away from the body and is a potential cause of hypothermia.
Ordnance Survey Explorer maps 167, 168, and 179
Route instructions – will be provided
Walkers Kit List
Hi viz items
Water bottle
Waterproofs
Walking socks
Hat and gloves
Shorts – for warm day
Personal food supplies
Pen/pencil and notebook
Energy sweets and snacks
Sunscreen and sunglasses
Day pack or small rucksack
Toilet roll in a waterproof bag
Walking poles – if you use them
Head/hand torch, spare batteries
Compass – at least two per team
Mobile telephone - at least two per team
Denim jeans or cotton trousers are not advisable
Vaseline to deal with any uncomfortable chaffing
Spare clothing, extra fleece – cotton not advisable
Comfortable walking boots with good ankle support
Basic first aid kit, inc pain killers, blister pads, zinc oxide tape or similar
Space Blanket or large heavy gauge plastic bag – one per team
Waterproof map case – it might rain and it's difficult to read a soggy map
Support Drivers Kit List
Driver route instructions – these will be provided
Contact numbers for your team members and event HQ
Strong torch and spare batteries
Spare car keys – you would not want to let your team down
Waterproof jacket
Spare clothing, including extra fleece
Food supplies - discuss and agree your team requirements, include plenty of high carbohydrate foods, easily portable
Water – plenty of it, keep your team topped up
Camping stove and spare gas – hot drinks will be in demand
Spare basic first aid kit
Black bin bags for your rubbish – leave none behind
blankets
A big enough vehicle.
Do you have a suggested training schedule?
Train well for the Trek the Night and you will get through the challenge safely and have a much more enjoyable time. For any long distance walking challenge there is only one form of training that will ensure you perform well –walking! No great surprise there. If you are generally fit and do lots of sport – you will be off to a good start.
This event will see you on the trail non-stop for around 12–17 hours. Many a good marathon runner and endurance cyclist throw in the towel so do not make any assumptions that walking is easy. Your Trek the Night success is about teamwork so the more training you can do together, the better. We all need a little encouragement when the going gets tough.
Phase one
Beginners should start with short regular walks increasing distance in line with how you feel/time available, but don't over do it to start with. Do at least three sessions a week of 2–4 miles.
Phase two
Continue your regular weekly session but increase the distance of some walks to 4–6 miles when you can.
Phase three
Keep up the routine with short sessions during the week and aim for at least one longer distance at the weekend. Covering around 10–15 miles a week is great. Maybe aim for a convenient pub finish!
Phase four
If all feels good increase your distance and time, covering 15–20 miles a week. You should be taking on a few hills by now – get your body and mind in tune with the ups and downs of walking.
Phase five
You will know now what you are capable of, and setting your own targets. You don't need to complete the full distance prior to the event. Marathon runners don't run marathons as part of their training! Having reached this confident stage you should be covering 20-25 miles a week and at least one day at the weekend should include a 4-6 hour walk.
Is there an age restriction?
Participants must be 18 and over. Participants aged 16 can take part, but must be accompanied by a responsible adult.
Companies who have Trekked for us