Our Research Training Fellowship scheme has been running for 45 years and supports some of the UK's most promising doctors and researchers early in their careers. It trains and develops future leaders in children's medical research – people like paediatric neurologist Professor Manju Kurian.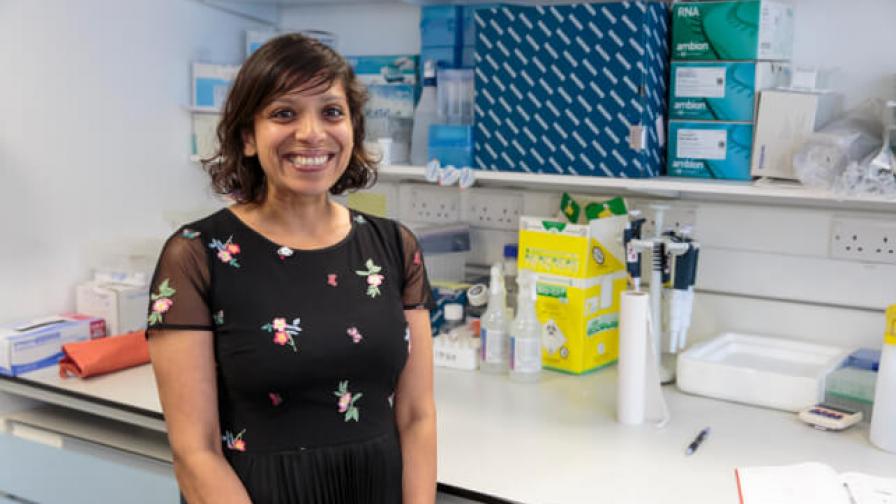 Ten years ago the then Dr Kurian was awarded an Action fellowship of more than £135,000 to embark on her first piece of research. She investigated the genetic basis of two devastating, life-limiting conditions that affect the brain and nervous system in very young children. This work, which resulted in her obtaining a PhD, led to the discovery of one gene linked to early onset epilepsy and one gene that causes a Parkinsons-like movement disorder in children.
Dr Kurian's research improved understanding of neurological syndromes – disorders of the nervous system; the brain, spinal cord and/or nerves that connect them. And from her findings, she was able to develop a new genetic test for patients, meaning families could be given a faster, more accurate diagnosis and answers where previously they had had none.
Building on this success, Dr Kurian has gone on to establish her own new research group at the Great Ormond Street Institute of Child Health. She and her team continue to carry out groundbreaking work to help children with severe neurological disorders. They have discovered a number of new disease genes – all of which help doctors improve diagnosis, care and treatment for children with rare, disabling and often life-limiting conditions.
In recent years Dr Kurian has also been the recipient of a string of prestigious national and international awards in recognition of her ongoing work. These include a L'Oreal UNESCO Women in Science award. And in 2018 she received her professorship.