Dawn to Dusk Triple Challenge
Race the Sun pits team of four against the clock in a Triathlon-style charity fundraising challenge competing in three disciplines, cycling, hiking and canoeing, racing the setting sun to be crowned champions.
Tackle this incredible team race whilst taking in the stunning views of rugged peaks and meandering streams in the globally renowned Brecon Beacons National Park.
Key Information
Date:

11 June 2022

Team Registration Fee:

£195

Team Fundraising Target:

£1,800

Location:

Talybont-on-Usk, Brecon Beacons, Wales
Dawn 6am – Following breakfast, teams will start setting off on bikes. Throughout the course of the day you will:
Bike 55 miles – around the incredible winding roads and lanes of the Brecon Beacons and alongside the Brecon and Monmouthshire canal*
Hike 7.5 miles – to the summit of Pen Y Fan, the highest mountain in the Brecon Beacons and a famous testing ground for the British army*
Canoe 2 miles – navigating the course as a team on Lake Llangorse in open top canoes*
*all distances are subject to weather conditions on the day
Dusk Push on to the finish line and collect your hard-earned medal, have a drink on us and enjoy your well deserved celebration BBQ!
bike - hike - canoe
At sunrise, after a hearty breakfast provided by us, teams set off from Henderson Hall in Talybont-on-Usk, by bike in one-minute intervals completing the bulk of the cycling with a 30 mile ride following the Brecon and Monmouthshire canal eastwards before looping back to Talybont-on-Usk. The first real test is a 350m ascent to the highest point of the cycle route. From here you will have views across to your next test, the summit of Pen Y Fan.
After leaving your bikes with the event marshals, it is time to tackle Pen Y Fan, an 8 mile round trip to an altitude of 886m. The ascent begins immediately as you follow well-trodden paths, fully supported by the mountain leader trained marshals. Upon reaching the summit teams will head eastwards, along the famous ridgeline, for a short distance before beginning your descent and return back to your bike.
Hike completed and after a quick refuel it's back on the bike for a 15-mile ride through the town of Brecon in the heart of this famous National Park and out towards Lake Llangorse for the canoe section.
Llangorse Lake, southern Wales' largest natural lake, is steeped in history, with the 2-mile canoe course skirting close to a 9th century 'crannog' (artificial island). The canoe section uses open canoes rafted together with space for the whole team and all safety equipment is provided and support is on hand throughout by trained instructors, so no previous canoe experience is needed.
Having successfully navigated the canoe section, the finish line is finally within sight as you get back on your bike for what now seems like a short 11 mile ride back to Talybont-on-Usk where you'll be greeted at the finish line by our support team to celebrate your achievements.
The challenge over, all's left to do is check your time, sup down a cold beer or bubbly on us, enjoy the BBQ and chill out with your teammates!
Event Includes
Food and drink
BBQ, beer and bubbly
Team awards
Finishers medal
Safety briefing
Bike mechanics
GPX route files
Timing tracker
Canoe equipment
Marshals and signage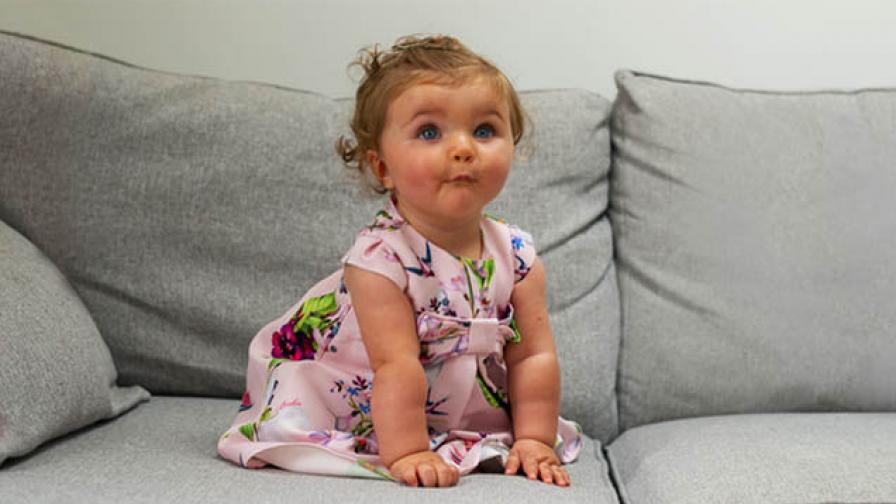 Race for a reason
Race for children like Ella
Born prematurely at 34 weeks, baby Ella developed a serious chest infection called bronchiolitis, most commonly caused by the respiratory syncytial virus (RSV). There is currently no vaccine to protect against RSV, or effective treatment. By taking part in Race the Sun and fundraising for Action, you can help fund new research that aims to harness the body's natural immune defences to fight this potentially lethal infection.
Frequently asked questions
What happens if COVID-19 restrictions affect this event?
We are planning full steam ahead for this event! But, as this is an uncertain time, we want to reassure you that if we cannot go ahead with the event due to COVID-19, we will offer you a number of options. We'll either postpone your event to a later date, you can join another similar event, transfer your place to another person, or receive a full refund of the registration fee you've paid.
How can I fundraise in a safe way that complies with COVID-19 restrictions?
If you're wondering how to fundraise during these challenging times, take a look at the Brecon Beacons fundraising guide here. There's loads of socially distant ideas to get you inspired and you can always get in touch if you need any extra fundraising support - events@action.org.uk
How fit do I have to be?
Race the Sun Brecon Beacons is achievable by people with a reasonable level of fitness who are prepared to put in plenty of training beforehand. The more you train, the more you'll enjoy the challenge. It's a great incentive to get fit and work a load of different muscles, whilst knowing you're raising funds for an excellent cause at the same time.
Do I have to carry all my stuff?
Due to the logistics of this challenge, you can pack 1 or 2 separate kit bags bags to drop with the events team when you register the evening before to have different equipment for the start of the trek and canoe sections. 
Bag 1 (highly recommended) - This is for your hiking kit and should contain warm layers and your hiking boots or shoes to change into. This bag will be taken to the start of the hike by the events team and when you've finished, you can change back into your cycling kit and leave your hiking gear with the events team who will take it back to Talybont for when you finish.
Bag 2 (entirely optional) -  For the canoe section it is not necessary to change into different clothes, what you will be wearing for the bike sections will be fine. But, if you want different shoes or spare kit, this bag will be available at the beginning of the canoe section and taken back to Talybont by the events team for the finish.
Being organised with this will enable you to carry with you the bare-essentials for each section.
What bike do I need and what mechanical support will there be?
You need to provide your own bikes and we would suggest a road or hybrid bike for this challenge as the route is all on-road (for those of you who have taken on this challenge before, we've taken out the off-road sections so that road bikes can be used). Your bike must be well maintained and in good working order and we recommend a thorough service before the big day. You should carry a spare inner tube each and one pump per team.  There will be a bike mechanic on hand at the event briefing and on the day to deal with any urgent repairs.
Do I need canoe experience?
Canoe experience is not necessary for this challenge. Your team of four will use two-seater sit-on-top canoes that are rafted together. The canoes, paddles and buoyancy aids are provided and we also have qualified canoeing instructors to brief and help you out if needed.
Do I need special equipment?
This is a tough event and you really need to come prepared with the correct equipment for the challenge and know how to use it. We will provide you with a full kit list but this can give you an idea: For the cycling, you must wear a helmet and bring your own bike, fitted with front and rear lights, in case of fog or if you start or finish in the dark. For the trekking section, walking boots or fell-running trainers are advised. It's a good idea to also carry a first aid kit just in case. All specialist equipment for the canoe section is provided.
What if I don't have a team of four yet?
Don't worry if you haven't confirmed your team of four yet; you can register now to secure your place anyway! When you manage to secure your other team mates you can then get them registered via the online booking system.
What about hotels and parking?
Parking at Henderson Hall is free so you can pull right up to the event base without having to worry about where to go. With a choice of hotels, private rentals and a youth hostel within a few miles of Talybont-on-Usk, you can stay close by and enjoy all the beauty of the Brecon Beacons.
What food is included for the event?
There will be pastries and fruit provided in the morning. Lunch, snacks and water will be available at a changeover station during your challenge and when you've crossed that finish line there will be a BBQ and drink of bubbly or IPA waiting for you! There will also be water and snack stops along the route. This is all included in the event.
At the registration the night before, there will be food available to purchase - more details of this will follow nearer the time.
 
Why is there a 50% sponsorship deadline?
We ask that you raise 50% of your fundraising target 2 months before the event (£900). Fundraising is something that is always done on a goodwill basis. The 50% deadline is there is to make sure everyone puts effort in to fundraise for their place on the event. It also reassures us that we can pay the practical event costs relating to the team's place on the event, knowing that the charity will not be out of pocket.
What if we don't raise 50% of our £1800 fundraising target by the deadline?
We rely on the conversations that we'll have with Team Captains in the lead up to the deadline date to understand your team's fundraising plans as you cook up different wonderful fundraising ideas! However please be aware that if you do not raise 50% of the fundraising target two months before the event then your team's place may be at risk.  Although it's a shame to lose any of our participants, unfortunately, we may not be able to confirm you on the event if we don't feel confident that you will meet your team's target which also covers the costs to us as a charity. We will always do our best to support you with fundraising ideas so we'll stay in touch to see if we can lend any help if needed.
How old do I need to be to take part?
You must be a minimum of 18 years old on the challenge date .
16-17yr olds may also participate in the challenge, with the agreement of, and when accompanied on the challenge by their parent or guardian.
race the sun rules
Click to expand the list of rules
1. Each team will carry a GPRS tracker. This will give the Event marshals your location on the route at any given time. The tracker must be carried by one of your team on all stages of the event.
2. Timings for the event will be recorded as follows:
a) Overall Event Time: is the total time taken to go from the start of the event to the end of the event, having completed all sections ie it is sum of the time taken to complete each section plus all intervening periods, changing time etc.
b) Section Time: is the time taken to complete each section. The time starts when all team members check in for the section and finishes when all team members report in at the end of the section.
c) Times are recorded when the last team member arrives at the section finish.
3. Teams must remain together in such a way that all team members can communicate with each other.
4. Marshals' instructions must be followed. If teams or individual team members are asked to leave the event by a marshal, they must do so immediately. The Marshal's decision is final.
5. If the event is stopped or suspended, and there is no prospect of a section being completed, teams will be awarded a time for each incomplete section equivalent to the average time for that section achieved by teams so far.
6. If you present yourself ready to start a leg, but you have to wait (eg a canoe is not available, or the event has been temporarily suspended), the time you wait will be deducted from your team's overall time.
7. All teams must have finished the challenge by 8pm. Event marshals will be operating cut-off times following the hike section. For this reason it may be necessary for teams who finish the hike section after 3pm to bypass the canoe section.
8. If any team member retires from a section of the event, the remaining members may continue at the discretion of the Marshal. Only complete teams of four will be eligible for the awards.
9. Team members must use the same bikes for the entire route.
10. Teams must bring all items on the kit list. At the safety briefing the night before, you will be informed of the weather conditions for the challenge and any kit that you won't need to take with you for the day.
you might also like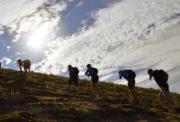 10 September 2022
Starting at sunrise teams of four will cycle, hike and canoe around the breathtaking Lake District.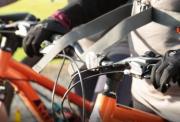 2022 date coming soon
Starting at sunrise teams of four will cycle, hike and canoe around the breathtaking Lake District in this brand new event featuring off-road mountain biking!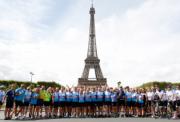 20 – 24 July 2022
Join Team Action on one of Europe's greatest cycling adventures. Covering just over 300 miles on a route through Newhaven, Dieppe, Lisieux and Vernon over 4 amazing days.