Cycling in Kent
Setting off from the ruins of Tonbridge Castle the route serves up one of the best charity cycling sportives in the South East. With a heady mix of rolling terrain and punchy climbs, it offers something for cyclists of all abilities.
The ride's highlight is the view across Kent from Ide Hill, flagrantly showing off the beauty of this county in all its glory, living up to its nickname of The Garden of England. The final few miles of the ride take riders on some lovely quiet lanes and past the spectacular Penshurst Place.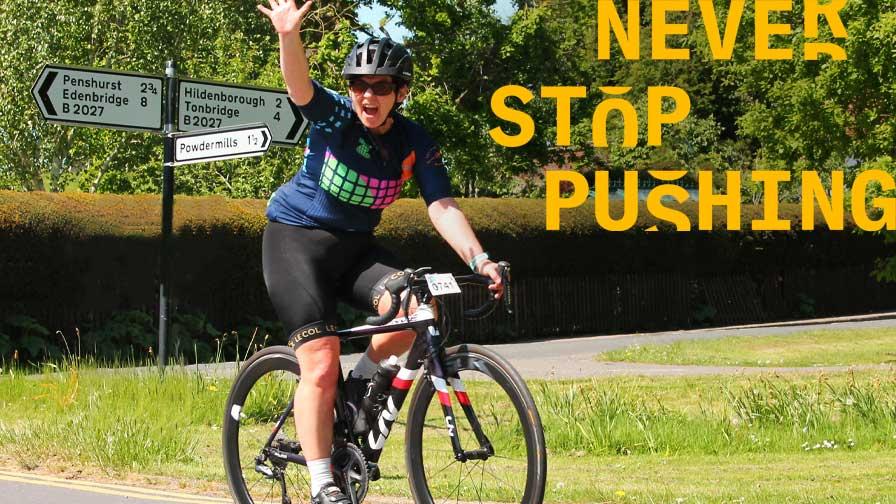 Key Information
Date:

Sunday 5 May 2024

Location:

Tonbridge Castle, TN9 1BG

Cool 36 Miles:

£36.50

Classic 73 Miles:

£46.50

Champion 100 Miles:

£48.50

Epic 127 Miles

£58.50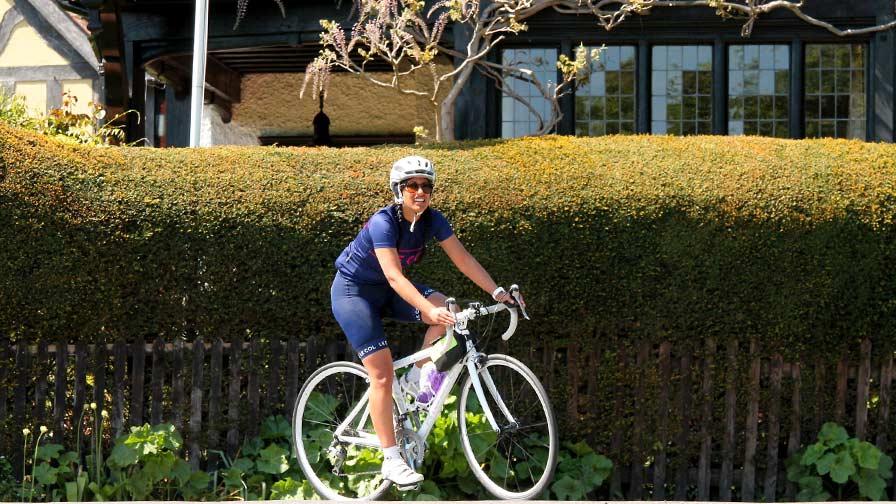 The Kent countryside serves up a mixture of quiet villages and beautiful scenery as you ride along quiet lanes. Expect some tough climbs on this charity bike ride as you pedal up and over the challenging North Downs.
With four routes to choose from which offer challenging hills, rewarding views and plentiful feed stops make it a cracking event!
Enjoy a great day in the saddle with the Action Medical Research team on this cycling event with first-class support throughout the day. Help us raise vital funds to help sick and disabled babies and children.
kent cycle Route details
Please note that other mapping platforms may provide different elevation statistics than those listed below.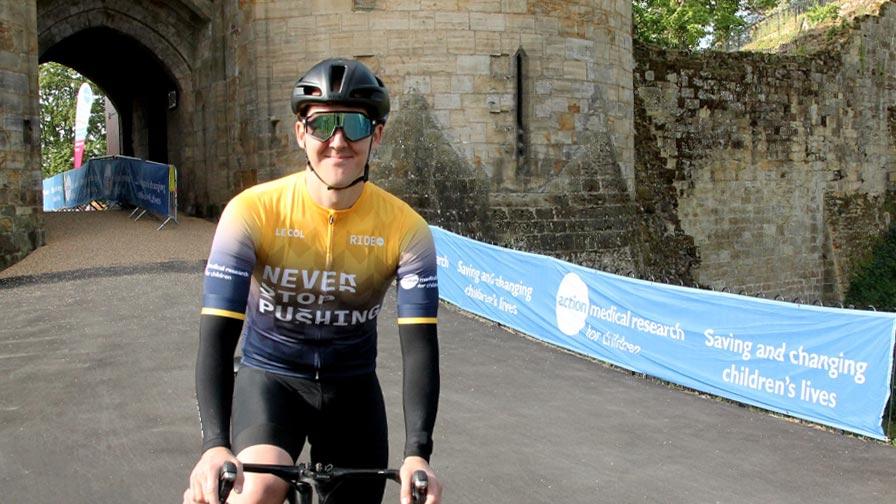 WHAT OUR RIDERS SAY...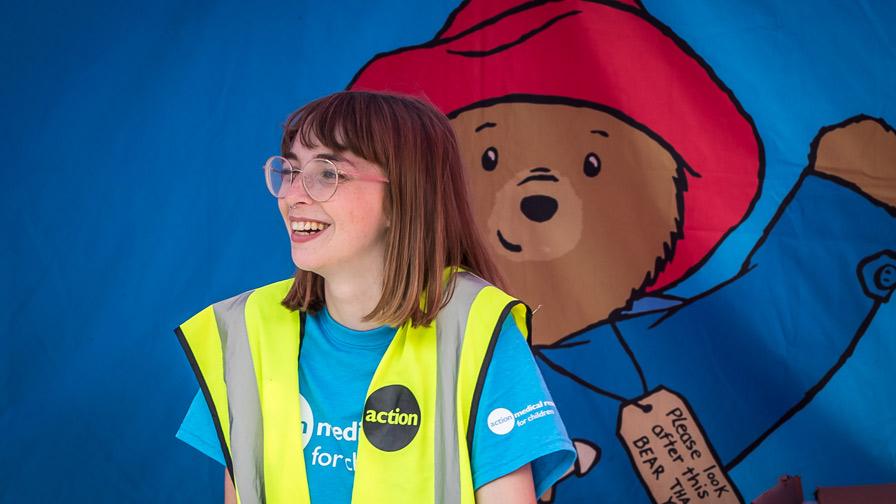 volunteer
Can you spare the time to help?
Our RIDE Series depends on the generosity of volunteers who give up their time to ensure that participants have the best possible day in the saddle. We're always looking for willing volunteers to help support our rides so please get in touch if you think you can spare some time, and in return, we'll give you a FREE ride!
Frequently asked questions
Will photos of the day be available?
Yes, there will be a photographer out on the course throughout the day capturing pictures of riders. These will be available to purchase from Sports Action Photos.
Do I need insurance?
We recommend that you have appropriate cover for you and your bike.
Are spare parts available for my bike?
Yes, for most common bikes. Spares are chargeable.
What happens if I get lost or get into difficulties on the day?
On the day you will be given a contact number for our ride control, who will help with any issues.
Is car parking available?
Free parking is available at a number of car parks in Sovereign Way TN9 1RQ close to the start/ finish venue. There is very limited parking at the Castle.
How long do I have to complete the ride?
There will be two route split cut off times for this event to ensure all riders make it back to the venue before the event closes.
Cut off times are on the Epic route and the Champion route, times and distances below:
Champion – You must reach mile 52.4 by 12:15
Epic – You must reach mile 69.5 by 12:30 and mile 96 by 14:30
Riders arriving after these times will be directed to the shorter routes available.
The ride closes at 6.00pm. Slow riders will be moved onto shorter routes as necessary. 
Do I need to wear a cycle helmet?
You must wear a cycle helmet to take part.
How old do I need to be to take part?
You must be at least 16 on the day of the event to take part; if you are under 18 you must be accompanied by an adult.
What facilities are available?
Toilets are available at the start and finish venue. Our feed stations will also have toilet facilities. Your belongings/valuables should be locked in your car or carried with you. There are feed stations on route which will provide hot and cold drinks & snacks. Riders and supporters will be able to purchase food and drinks at the finish.
What are the timings for the day?
Our registration will be open from 5.30am for you to collect your number and timing chip. Please only arrive 15 minutes before you are setting off to. 
START TIMES:
Epic: 0545 - 0600
Champion: 0600 - 0630
Classic: 0700 - 0730
Cool: 0800 - 0830
RIDE CLOSED: 6.00pm 
All riders must have returned by 6pm. 
Can I transfer to next year or get a refund?
Yes, just let us know and we will sort that out for you. Dates for next year are still being finalised, so you may need to bear with us for a little while.
How will I find out my time?
This will be sent you by email the day after the event.
What happens if I get lost of get into difficulties on the day?
On the day you will be given a contact number for our event control who will help with any issues.
When will I receive my number and final information?
You will receive information by email about 1 week ahead of the event, this will also be added to the website at www.action.org.uk/castle
You will collect your number with your timing chip on the day at registration. Simply head to our registration tent on arrival.
I want to buy this as a gift?
What a lovely treat! When you buy as a gift you are entering the same registration process as normal. However, once you have chosen the route/distance then you'll be prompted to answer, 'who is this registration for?' Please select 'someone else...'
The email address you input here will be the email to receive all event correspondence. So you may want to choose to use a different email address, if you want to keep your gift secret. 
After you have paid you will received a confirmation of the event entry (to the email address you entered as above) so you can gift this to your rider.